Onedrive for Business
OneDrive for Business is a personal library intended for storing and organizing your work documents. As an integral part of Microsoft 365 or SharePoint Server 2013, OneDrive for Business lets you work within the context of your organization, with features such as direct access to your organization's address book.
Store, sync, and share your files from anywhere. Easily.
Your files in one place.
Private by default, OneDrive for Business safely stores all your valuable work files that you can securely share with others.
Available anytime.
Synchronize your files with your devices so you can access your content offline. Offline edits will automatically sync with OneDrive for Business the next time you connect.
Across all your devices.
Get to your files from any device via browser, or use native OneDrive for Business apps on Windows 8, Windows RT, and iOS. Take selected files offline with you and have them on the go.
Collaborate on documents and get work done together
Work with anyone.
Securely share your files with others both inside and outside your organization. Easily manage who can access or edit your files.
Real-time collaboration.
Work simultaneously on your documents with others using Office Web Apps or Office client apps and increase productivity.
Easily track changes.
With automatic version control, ensure that all collaborators are working with the right document. Revert to a previous version at any time.
Manage security and compliance with enterprise grade control
Unmatched service compliance.
OneDrive for Business in Microsoft 365 is compliant with world-class industry standards, including ISO 27001, EU Model clauses, HIPAA BAA, and FISMA, and is verified by third-party auditors.
Available for eDiscovery.
Documents in OneDrive for Business are available for discovery and preservation, protecting content while allowing users to continue working on their documents.
Auditing, Reporting, and Security.
Administrators can generate audit reports for common events in OneDrive for Business or build custom ones to suit their needs. Security features are also central to OneDrive for Business, allowing granular control of capabilities like external sharing, offline sync, and access control.
How we store your work documents and related files
If you're using Microsoft 365, you get 1 TB of space in the cloud for OneDrive for Business.
All files that you store in OneDrive for Business are private initially – only you can see them – unless you decide to share them. You can easily share a file with everyone in your organization by placing it in the Shared with Everyone folder, for example. You can also share files with specified co-workers so you can collaborate on projects. If you're signed-in to Microsoft 365, you may even be able to share with partners outside of your organization, depending on what your company allows.
How we sync OneDrive for Business to your computer
The OneDrive for Business sync app lets you synchronize your OneDrive for Business library or other SharePoint site libraries to your local computer. This sync app is available with Office 2013 or with Microsoft 365 subscriptions that include Office 2013 applications. If you don't have Office 2013, a free download of the OneDrive for Business sync app is also available.
To sync OneDrive for Business, sign in to Microsoft 365 or SharePoint, select OneDrive at the top of the page, and then click Sync.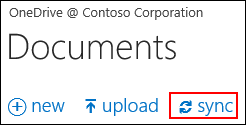 You'll find your synchronized files in your File Explorer, under Favorites. If you're syncing an Microsoft 365 OneDrive for Business library, your synchronized files appear in the OneDrive@ folder. Work on them locally if you like and your changes will be synchronized automatically with your OneDrive for Business library when you're online.